Sustainability
SDGs/ESG
Since IwaiCosmo's business started in Osaka more than 100 years ago, we have been delighted to give back and share with local communities with gratitude for our stakeholders – our clients, shareholders, employees.We had stepped into another century a few years ago with committing to improve our efforts on key environmental, social and governmental matters. We also commit to ensure that we do our part to advance sustainable economic development.

Environment
■ IwaiCosmo to replace its cars to reduce CO2 emission
IwaiCosmo is delighted to announce replacing its business cars with more fuel efficient models to reduce CO2 emissions.
Now out of our 164 business cars, 80.5% are small-sized cars and 17.1% are 1000cc class.
■ Reducing power consumption
We are taking measures to save electricity such as lighting fixtures and electrical appliances, and to save energy such as air conditioning temperature in summer (May-September) and winter (November-March).In addition, each employee is aware of eco-friendly activities that lead to energy conservation.
In addition IwaiCosmo had deployed LED lightning and Hybrid radiation air-conditioning systems to some of its buildings. Iwaicosmo Tokyo head office reduced electricity consumption 67.9%. Osaka head office reduced electricity consumption 53.1%.
■ IwaiCosmo's responsible procurement plan
IwaiCosmo's office procure goods are in line with our environmental objectives.
Window cover of envelopes made of glassine paper, not cellophane.
Gifts distributed to our customer are now plant-derived detergents, paper straws, and reusable grocery bags.
Business cards are made of "LIMEX" that is a new limestone material from Japan that could replaces paper and plastic.

IwaiCosmo, a supporter of Task Force on Climate-related Financial Disclosures(TCFD).
IwaiCosmo is committed to taking action against climate change, that cause unprecedent weather catastrophes in recent days. A business' bottom line can be influenced by issues that range from changing weather that affect agriculture to natural disasters that disrupt supply chains. Under these circumstances, we recognize the impact on our groups' business and we strive to deliver clear and transparent reporting based on TCFD recommendations.
Social
■ Iwaicosmo wins Medal with Dark Blue Ribbon on Umeda Green Promotion Project
IwaiCosmo is honored to have won Medal with Dark Blue Ribbon for donating on Umeda Kita Yard Green Promotion Project and revitalizing of volunteer fire department.
On August 4. 2017, Governor Ichiro Matsui of Osaka Prefecture presented Yoshiaki Okitsu, Chairman and CEO, with a letter of commendation at a ceremony held at the Osaka Prefectural Government Office.
The Medal with Dark Blue Ribbon is awarded by the Japanese government to individuals, corporations, and organizations that have contributed private funds for public interest and have made outstanding achievements.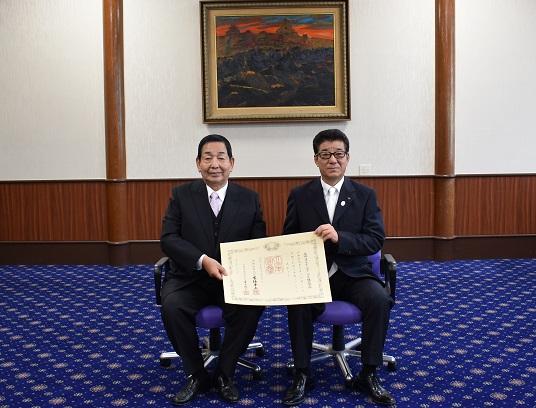 ■ CSR Activities of IwaiCosmo
Over the years, IwaiCosmo has been developing and implementing policies designed to take CSR issues into greater account in its businesses.
We set aside about 1% of net profit every quarter for "IwaiCosmo Social Contribution Fund" and contribute communities through donations to medical research, environmental protection and natural disaster recoveries.
In March 2011, the Great East Japan Earthquake devastated Tohoku district. We donated 20 million Japanese Yen immediately through Japan Red Cross.
Subsequently, on October 21,2016, our 100th anniversary ceremony day, we had donated total amount of 140 million Japanese Yen to 5 organizations selected by the external experts.

■ IwaiCosmo's Green Activity as a member of the Dairin-Kai*
Development of the Izumisano Kyuryo Ryokuchi and parks in Osaka Prefecture and Osaka City * Established as a result of our participation in "The international Garden and Greenery Exposition"

■ Iwaicosmo sponsorship to "Beethoven's 9th with a cast of 10,000" by Suntory Holdings as part of our cultural activities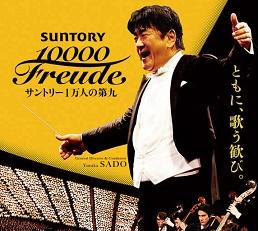 ■ Iwaicosmo supports classic Osaka theatrical entertainments
IwaiCosmo had donated to restore Tem'ma Tenjin Hanjo Tei, the stage presents Osaka Rakugo exclusively. Osaka Rakugo is a classic storytelling art that still retains Osaka common people's culture 200 years ago.
■ IwaiCosmo donates to Pink Ribbon Campaign
■ Iwaicosmo contributes to planting cherry blossoms in Osaka Castle Park.
■ IwaiCosmo's Support to Medical Institutions in COVID-19
IwaiCosmo issued a Private Placement Bond where a part of the fee donated to Medical Institutions tirelessly fighting with COVID-19.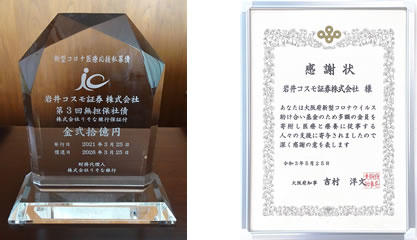 ■ IwaiCosmo co-operates Global Financial City OSAKA Promotion Project
Global Financial City OSAKA Promotion Project is a project to have Osaka to be more established as international financial center. IwaiCosmo, as being one of Osaka based financial company, had concluded the co-operation agreement with Osaka Prefecture and Osaka City on August 2, 2021. We will seek Osaka to win a more stable position in financial world.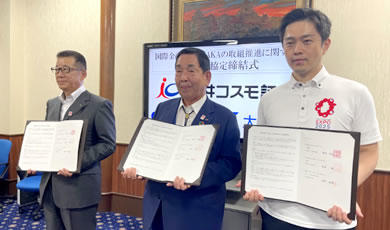 The Group participates in the "Shareholder Benefits SDGS Fund" and "Child Support Securities Net" operated by the Japan Securities Dealers Association so that resources such as shareholder benefits can be effectively utilized as SDGS support.

■ Supporting the development of the Kansai Region
As part of our 100th year celeblation, we have established a fund focused on companies that are headquartered in the Kansai Region on September 30th, 2015.
We have established a research division that focused on Kansai related stocks and are actively contributing to the development of the region.
As many companies are relocating to Tokyo, we are staying in Kansai and helping employment in the region.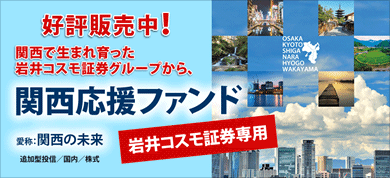 ■ Promoting Remote Work
At IwaiCosmo Securities, we are actively working to reform our work style, through methods like remote working as we recognize the various circumstances of our employee, such as the need for senior care and childcaring.
On November 2019, the Ministry of Internal Affairs recognized IwaiCosmo's effort to promote remote work through our investment into ICT and has chosen us as one of the 32 leading remote work adopters.
IwasCosmo was also awarded by Japan Telework Association (The first securities company to be awarded)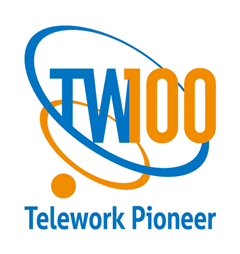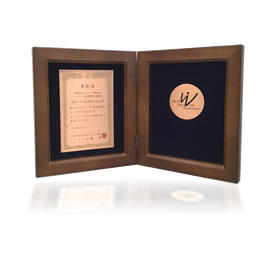 ■ Promoting Woman's Role as IwaiCosmo
We applied the shortened working hours and staggered working hours until the third grade of elementary school, which is longer than the legally mandated (preschool) period. We maintain a high return rate after childcare leave (3 out of 3 in FY2018, 8 out of 9 in FY2019, 4 out of 4 in FY2020).
We are actively recruiting new female graduates (April 2019: 28.1%, April 2020: 45.1%, April 2021:50.9%)
In order to prevent spouses from leaving the company due to relocation (human resource outflow), we are working to promote the activities of local employee by assigning them to our branched in their new locations.
We have one female outside director and one female outside corporate auditor, two women in executive positions, who provide uis with advice on management from a woman's perspective.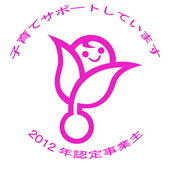 Certified by the Minister of Health, Labor and Welfare as a child-rearing support company in 2012
■ Relationship with employees
Based on the principle that human resources are the company's most valuable asset, we are promoting the creation of a system and environment that allows employees to work with satisfaction, and we are also working to expand our nursing care support system and employment of people with disabilities.
We are creating an environment where motivated employees can continue to work after mandatory retirement age, by extending the employment period of employees to a maximum age of 70 from 65 (effective April 2017).
Governance
■ Strengthening Corporate Governance
In order to strengthen governance, the holding company has three outside directors out of six, and Iwai Cosmo Securities, a subsidiary, has two outside directors on its board.
Iwai Cosmo Holdings Co.
●Outside Directors (Independent Directors): 3

Terumichi Saeki (Founder and Partner, Kitahama Partners)
Yusuke Saraya (President and Representative Director, Saraya Corporation)
Takako Igaki (President, Healthy City Design Institute Co., Ltd.)

●Outside Corporate Auditors (Independent Directors): 2

Hiroyuki Osuna (President, Semba Chuo Law Office)
Saeko Kuwaki (Executive Director, Hongo Tsuji Tax & Consulting)
Iwai Cosmo Securities Co.
●Outside Directors: 2

Shigeo Sasaki (Midosuji Law Office, Visiting Attorney at Law)
Michihiro Saito (President, Research Institute of Politics and Economics)

●Outside Corporate Auditors: 2

Hiroshi Morimoto (Representative, Kitahama Partners; CEO, Kitahama Partners Group)
Yoichi Kida (Part-time lecturer at Setsunan University)